Social work: adding value to mental health services
Conferences are a great way to meet colleagues to share experiences and interests. But there is a real skill in putting together the right ingredients to make it an occasion. With online streaming, global connectivity and information at our fingertips 24/7, there is a real need for conferences to inspire, engage and connect people in a way which virtual encounters can't quite manage.
Doing something a bit different helps to make conferences memorable. On Tuesday at the conference on service user and carer involvement in social work education in Hull it was a string quartet playing in the dining room during lunch which provide the mood music for the day: respecting and valuing each others' unique contribution. Today it was something quite different.
I was invited to speak at the Hertfordshire Partnership University NHS Foundation Trust Annual Social Work Conference today by Jemima Burnage, the Head of Social Work and Safeguarding, via twitter. Impressed by Jemima's enthusiasm for social work and commitment to developing the profession, I had no hesitation in accepting the offer.
The first surprise she had in store for us was a conference cartoonist who documented the day through images. Clive the cartoonist was incredibly insightful in encapsulating keynotes, workshops and introductions in witty images which conveyed the essence of what was going on.
This slideshow requires JavaScript.
The second surprise Jemima planned for us was two actors planted amongst delegates who started a stand-up row before we had chance to finish our first coffee of the morning. After the Chief Executive of the Trust welcomed us to the conference one of the 'practitioners' stood up and said that we need to address the image of social work as portrayed by the media as a priority. A second 'practitioner' responded and argued that we should focus on providing care and support and not worry about what the media think of us. They debated this issue at an intensity which was rather unnerving, particularly as the conference was just getting underway. Others in the room started to join in the discussion, but when the two actors promptly left the room Jemima admitted that they were not real practitioners.
This short dramatic interlude helped to create a buzz in the room. I think it served the purpose of preventing complacent thinking and challenged everyone to think carefully about their position on the issues discussed during the day.
Ruth Allen, Transitional Chair of the Mental Health Faculty at the College of Social Work and Director of Social Work at South West London & St. Georges Mental Health NHS Trust, spoke on 'Leading for Change: Empowering Social Work'. Combining her experience at the College and leadership of social work within NHS mental health services, Ruth made the case that services are gradually moving towards a social model and there is a huge opportunity for social work to be at the forefront of this.
I used the metaphor of an iceberg (which was very appropriate for a hot day such as today!) to speak about the untapped potential of mental health social work which lies beneath its statutory responsibilities and its feeding the 'system' of NHS mental health services. I used the example of the Connecting People study to illustrate how social work can develop its own evidence base and make a case for social interventions, thus defining its own future. My presentation can be viewed here, though perhaps Clive's interpretations of what I said are more accurate!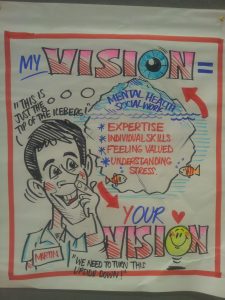 I then gave two workshops on the Connecting People study, delving a bit deeper into the intervention model and giving practitioners time to reflect on their practice in the context of supporting people to engage with others. Practitioners were quick to point out the barriers to implementation, which didn't surprise me. Top of their list were institutional barriers including existing models of care, bureaucracy, too much focus on dealing with crises and not enough time to spend with people. A throw-away comment I made about creating a tick-box for spending time with people over a cup of tea to help build relationships was immortalised by Clive:
Anyone familiar with the Connecting People study will recognise where these images come from: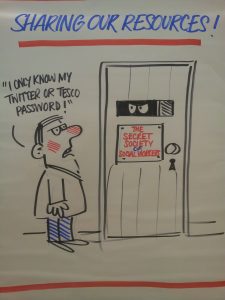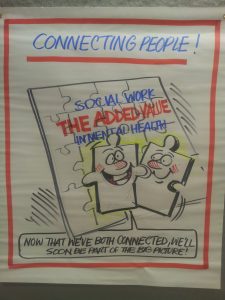 There was a feeling of optimism amongst the practitioners who were there today. No-one was naive about the challenges ahead, but I left feeling confident that mental health social work in Hertfordshire is not only in safe hands but has the potential to lead change in the country as a whole.