Ripon sinkhole: a reminder of our fragility
The national media has descended on Ripon to take a look at the sixth sinkhole to open up in recent days. News vans from ITV, BBC York and many unmarked ones crammed into Magdalens Close to get pictures of the affected house at first light this morning.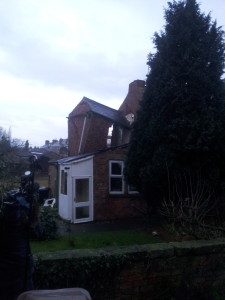 Our house is adjacent to Magdalens Close so I was concerned about whether our house and garden was affected as well. Fortunately, we're OK, but I do feel for the owners of the house affected (pictured) and their immediate neighbours. Houses were evacuated last night amidst concerns that further sinkholes could emerge.
Ripon is susceptible to sinkholes as underground gypsum dissolves and eventually gives way. Many have opened up over the years causing concern for local residents, though this is the first that has come to the public attention for over a decade.
The location of the latest sinkhole is adjacent to the old Ripon Auction Mart. Harrogate Borough Council turned down a planning application for building 75 homes on this site last week. I saw the geological survey as I prepared my submission to the Council and there was clear historical evidence of sinkholes on the site.
I didn't sleep easy in my bed last night and I doubt that others near to, or in, Magdalens Close did either. It reminds me that we should not take our existence for granted and to look after those around us. We don't know when the ground may open up to swallow us up.